Beauty is in the details
We carefully select the most effective combination of high concentration active ingredients with an innovative delivery system that reaches deeper into the skin. All products are dermatologist tested and approved for daily care and to complement aesthetic procedures. All HH Science products are PH balanced, cruelty-free, chemical paraben free, non-comedogenic, and do not include toxic, harmful or irritating ingredients. Made in the USA by an FDA-approved facility.

We are performance-based skincare, haircare, and beauty that delivers results. 
Healthy + Happy Skin, Hair & Beauty Starts Here
Our mission is to improve overall health and beauty by providing the highest quality ​medical-grade skin care solutions, hair solutions & beauty backed by science.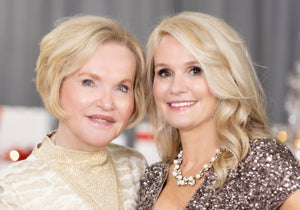 HELEN M. TOROK, M.D.
Helen M. Torok, MD, is the Medical Director of the Trillium Creek Dermatology Center. Dr. Torok, a nationally noted, board-certified dermatologist, has been practicing medicine for over 40 years. She is considered an expert both in medical and cosmetic dermatology, earning an excellent reputation in her specialty: diagnosing and treating disorders of the skin, hair, and nails. She is also known for her expertise in fillers, especially lip enhancement, providing full-face volume replacement.
Dr. Torok earned her doctorate at The Ohio State University College of Medicine and completed her residency in dermatology at Case Western Reserve University. She has authored numerous publications on skin disorders in many respected medical journals. She also serves on the Advisory Editorial Board of Dermatology Times.
HEATHER L. FUNK, MBA
Heather Funk, MBA earned her Bachelor's Degree at Ohio Wesleyan University and completed her Master's Degree in Business Administration at Ashland University. With more than 25 years of experience in the beauty industry, her mission became to improve her clients' overall health by providing the highest quality medical-grade solutions backed by science. She partnered with her mother and board-certified dermatologist, Dr. Helen Torok, to develop their own line of clinical strength + clean skincare, haircare, vitamins, and beauty. All of her products are dermatologist developed and tested to be the highest quality that deliver results. She is proud to offer innovative, clinical formulations with naturally derived ingredients creating clean & cruelty-free solutions for healthy, happy skin.